Do you love animals? Do you want to help animals in shelters and rescues, but don't know where to start? Not to worry! Petapalooza is here, and The Judy Stover Team is happy to help!
We're excited to be a donation drop-off site for this years' Petapalooza!
Petapalooza is two things:
1. A group of dedicated activists working to improve the lives of animals in need.
2. A fun and FREE family event in Central PA!
Here's a blurb from their website, petapaloozapa.com
"We focus on ALL animal rescues at Petapalooza. In 2017, we had almost fifty groups featuring dogs, cats, birds and more! In addition to helping animal rescues, we also focus on being an animal-friendly festival with vendors, raffles, live music, Barkby Plunger's Dog Course Luring, food trucks and The Pet Parade to raise additional money for the animal shelters and rescues."
This year the event is on May 19th, and features over 40 rescues and dozens of vendors, all excited to spread help homeless animals!
Each rescue received a portion of the proceeds from Petapalooza's many fundraising efforts. There's a Pet Parade where folks vote for their favorite animal by donating in their name, and every donation goes directly to the organization that brought the animal!
Another favorite way to donate is through the yearly Goods Drive. Rescues have so many needs, and not all of them are big or expensive. Do you have some old towels you're like to get rid of? How about a few extra rolls of paper towels? Can you pick up a jar of peanut butter at the grocery store? And maybe clean out the closets to purge those blankets that don't go with the new couch! All of these things and more can be used by many of the shelters attending Petapalooza.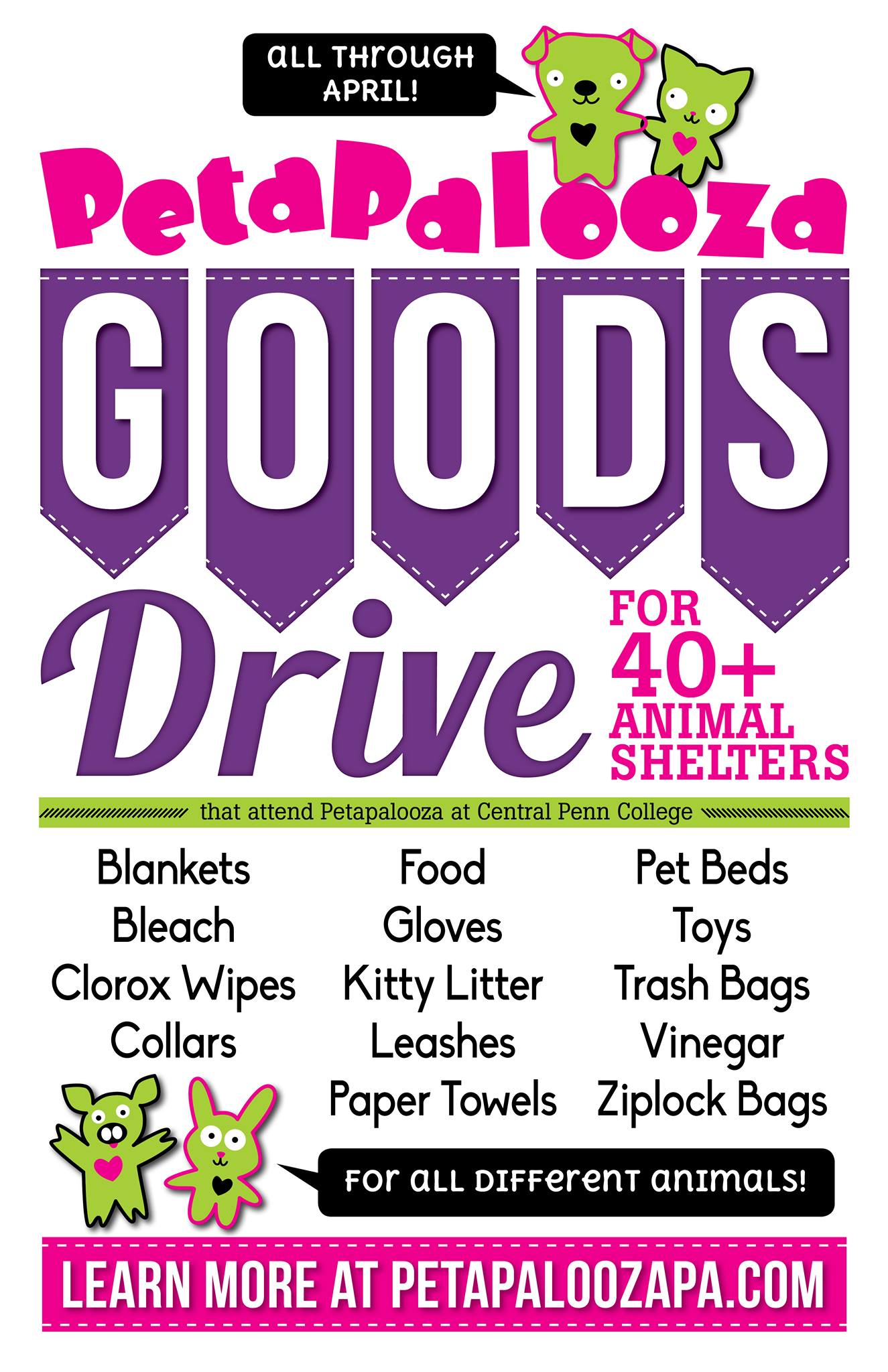 The volunteers sort donations and present each group with a variety of goods that fit their needs.
Donations can be dropped off at a variety of locations around town – from Enola to Gettysburg, and Hershey to Camp Hill, dozens of local shops and offices have opened their doors to Petapalooza. Look for the Goods Drive flyers and boxes and leave your donations there anytime during business hours.
Of course, we encourage you to visit our office at:
1135 East Chocolate Ave.
Hershey, PA 17033
Or, Keller Williams Central PA East other office at:
530 N Lockwillow Ave.
Harrisburg, PA 17112
For a complete of Good Drive locations, please visit the website: petapaloozapa.com
Thank you for helping the animals!