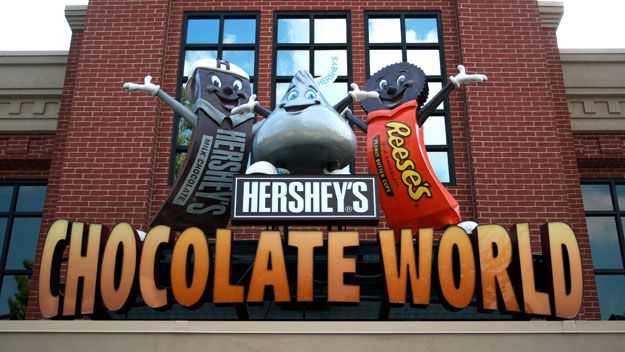 Hershey
Hershey is a borough of Dauphin County, Pennsylvania with a population of 14,257 people. For schools, and official purposes it is known today as Derry Township. It was renamed Hershey in 1906 after the growing popularity of Hershey's chocolate. It is popularly called "Chocolatetown, USA" or "the sweetest place on earth." The community is located 14 miles east of Harrisburg and is part of the Harrisburg Metropolitan area. The town is named for Milton S. Hershey, who founded his chocolate factory in 1905 and then opened his amusement park in 1907 which to this day continues to expand into the national amusement park that it is. Milton S. Hershey was known for his profound sense of moral responsibility and benevolence. He built a model town for his employees which still stands as one of our premier model towns today. His benevolence was especially prevalent when in 1909 he established the Milton S. Hershey school for underprivileged, orphan boys. That school continues to thrive in the community for both boys and girls.
This community is also home to the H.B. Reese Candy Company, Hershey's Chocolate World, Hershey Entertainment and Resorts Company which owns and operates Hersheypark, Hersheypark Stadium and other attractions such as ZooAmerica, and The Hershey Gardens. Hershey also offers the Penn State Milton S. Hershey Medical Center, highly reputable as a medical community and has a high focus on research and teaching in the medical community as seen by their growing medical college. The Pennsylvania State Police Academy is located in Hershey. Hershey is also home to the Hershey Bears, a professional ice hockey team playing in the American Hockey League, and is currently the top affiliate of the NHL Washington Capitals.
Hummelstown
Hummelstown is a borough in Dauphin County, Pennsylvania with a population of a little over 4500 people. Hummelstown is centrally located between both Harrisburg and Hershey, making it a quick commute to several colleges and hospitals such as HACC, Lebanon Valley College, Penn State Harrisburg, YTI, Kepler Career Institute, Hershey Medical Center, Harrisburg Hospital, Holy Spirit Hospital, and Lancaster General Hospital. This town is served by Lower Dauphin School District, are also known as the Falcons, and showing off school spirit with the colors of Blue and White. It is a common tourist drive-through, with numerous businesses, shops, restaurants, hotels, gas stations, and bars designed to capitalize on the amount of tourist travel through the small town.
Palmyra
Palmyra is a borough in Lebanon County, Pennsylvania with a population of 7,352 people. It is located between Annville and Hershey in the Lebanon Valley. This small town is served by Palmyra Area School District and are known as the Cougars with school colors of black and orange. Palmyra is the home to many companies, including ASK Foods, Inc., Dechert Dynamics Corp.,Klick-Lewis, Inc., and the Palmyra Bologna Co., Inc., which produces Seltzer's Lebanon Bologna.Palmyra offers all the things that you would expect a small town to offer; charm, neighbourly town, shops, parks and recreations, businesses and a quaint downtown.
Middletown
Middletown is a borough in Dauphin County, Pennsylvania situated along the Susquehanna River. It is located 9 miles southeast of Harrisburg and has a population of 7,441 people. This town is served by the Blue, Gold and White – Middletown Area School District aka the Blue Raiders. It is the oldest incorporated community in Dauphin County and is in a rich agricultural area bordering Pennsylvania Dutch Country. Middletown has everything from a log cabin to Victorian Mansions, and beyond.
Elizabethtown

Elizabethtown is a borough in Lancaster County, Pennsylvania with a population of 11,648 people and is commonly referred to as "E-Town". Situated in scenic northwestern Lancaster County, the town is 10 miles south of Hershey and 20 miles from Harrisburg, Lancaster and York which is why many residents commute to the nearby cities of Harrisburg and Lancaster for work. Elizabethtown is home to Continental Press, White Oak Mills (an animal feed plant), the Masonic Village, a large Masterfoods USA (a division of Mars, Inc.), Messick's Farm and Construction Equipment, and numerous smaller businesses.Elizabethtown is also home to Elizabethtown College, founded in 1899 and is a selective private, residential co-ed college of 1900 students. Elizabethtown is served by the Elizabethtown Area School District also known as the The Bears showing off school colors of Blue and White. This community is served by an amtrak station, where all the Keystone Service and Pennsylvanian trains stop. Riding this train will give a quick commute to Philadelphia in about an hour and a half.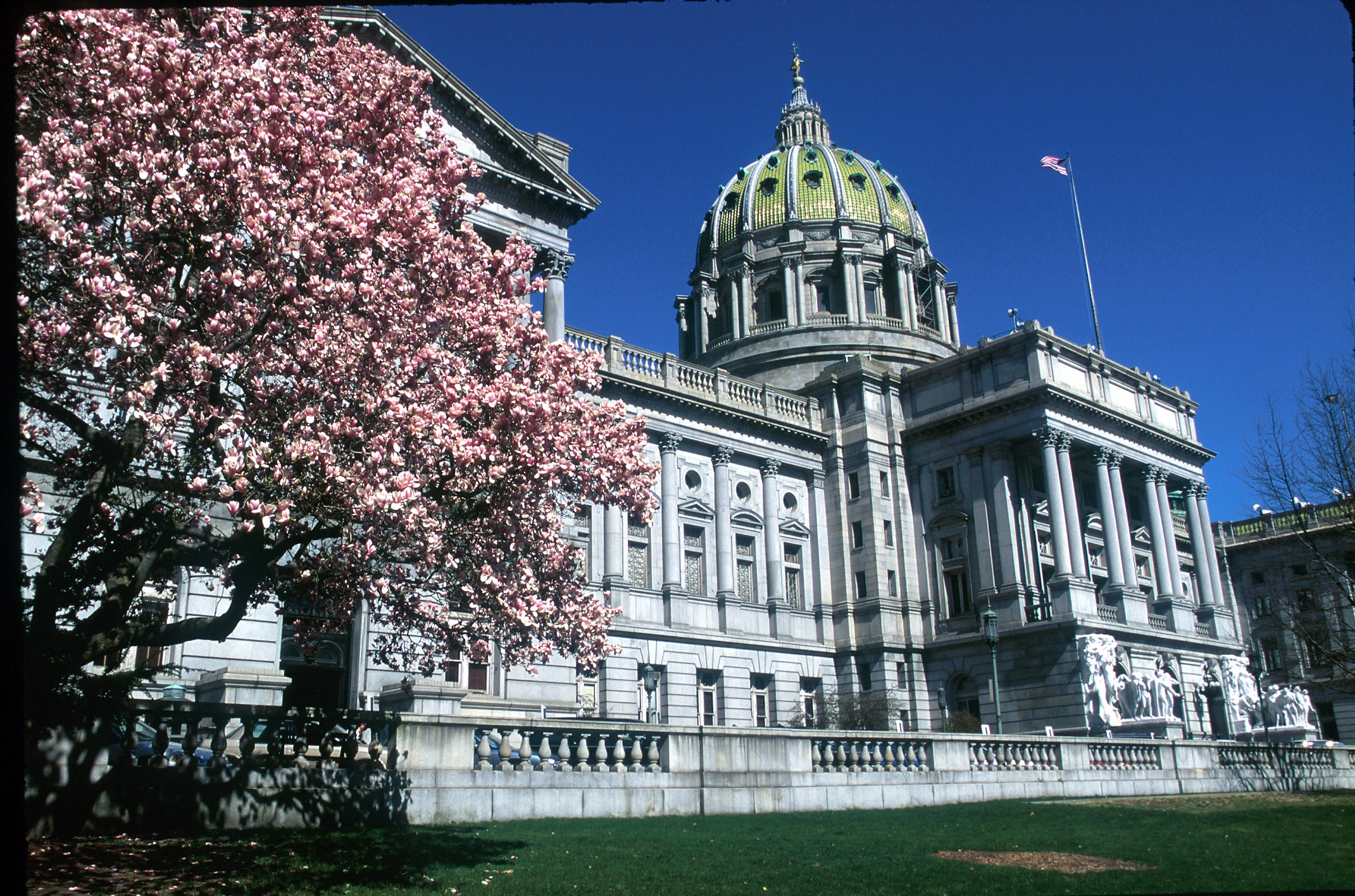 *photo from CORE PA
Harrisburg
The Harrisburg region encompasses a large geographical area outside of the city and includes Linglestown, Colonial Park, Paxtonia, Paxtang, Rutherford and other small hub areas.There are also numerous beautiful parks, including Wildwood Lake Nature Center, Riverfront Park, Italian Lake, and sports and recreation-centered City Island which hosts Harrisburg's minor-league baseball team, the Senators.Harrisburg also hosts the Whitaker Center for Science and the Arts, Central PA's premier interactive center for arts, education and entertainment and features an IMAX theater. A pedestrian and bicycle-friendly community, Harrisburg hosts a large number of award-winning and family-friendly international, national, regional and local events year-round. From the bustling downtown, through historic neighborhoods and City parks, to the banks of the expansive and beautiful Susquehanna River, the City buzzes with activities and events.
Lemoyne
Lemoyne is a borough in Cumberland County. Lemoyne lies across the Susquehanna River from Harrisburg and is only minutes from the capital. Lemoyne is served with easy access to Interstate 83 and Route 11/15. Lemoyne is a part of the West Shore School District. Lemoyne is a quaint town that is most known for its West Shore Farmer's Market, a place where people can shop for the freshest meats, fruits and vegetables and includes other delightful shoppes.
*photo from Retro Road Map
New Cumberland
The Borough of New Cumberland is a municipality located in the Southeast section of Cumberland County and borders the Western Banks of the Susquehanna River in South Central Pennsylvania, a stones throw from the state Capitol. New Cumberland is served by the West Shore School District. New Cumberland is rich in parks and recreation. The borough is noted for its yearly Apple Festival which gathers hundreds of vendors and brings thousands of visitors.
Camp Hill
Camp Hill is a lovely, historic town located in the west shore region of Cumberland County, home to approximately 7,630 residents. The town features the Cleve J. Fredericksen Library which has been voted "Simply the Best Library" by the Harrisburg Magazine reader's poll. Residents enjoy three public parks, Siebert Park, a recreational complex with swimming and tennis; Willow Park, a nature park near the center of downtown; and Beverly Park, a recreation park near the west end of town. An array of nonprofit organizations, religious institutions and community activities illustrate the tremendous civic pride and diversity. Nearby Holy Spirit Hospital provides healthcare services. Camp Hill is known as the "high water mark" of the Civil War, where Robert E. Lee's army fought the Skirmish of Sporting Hill.
*image from Polly the Travel Frog
Mechanicsburg
Mechanicsburg is a borough in Cumberland County and is about 8 miles west of Harrisburg. It is in a rich agricultural region known as the Cumberland Valley. Mechanicsburg's boro is charming with streets lined with businesses, churches and restaurants. Each summer, the downtown borough gets turned into the longest and largest running one day street fair in the Eastern United States known as Jubilee Day. Mechanicsburg is home to Williams Grove Speedway and Williams Grove Speedway Fleamarket. The half-mile speedway has been part of the rich history of motorsports throughout the nation since it opened in 1939. Mechanicsburg serves the Cumberland Valley, Mechanicsburg and West Shore School District depending on where you live. It is a town filled with lovely neighborhoods and communities where "being a neighbor" is a great thing!